Welcome back to another intense season of emotions, interesting outfits, and deciding whether or not your favorite guy competing for Becca's heart is "here for the right reasons." That's right folks, it's another glorious season of The Bachelorette.
Naturally with the new season officially beginning, the first night sets the tone for lots of drama, judgement and fashion. After watching the first episode, we noticed that this group has an eclectic group of guys that ranged from being decked out in tuxedos, looked dapper in suits, kept it casual (or business casual) and then there was a chicken…
However, for the sake of the blog, we decided to put our personal preferences aside for our "front-runner" picks, and just focus on the outfit selections that would definitely win a rose from us.
       *Jordan, if you're reading this… we heard you loud and clear. 
       
Jordan looking at literally everyone like they're his younger brother embarrassing him at his frat party: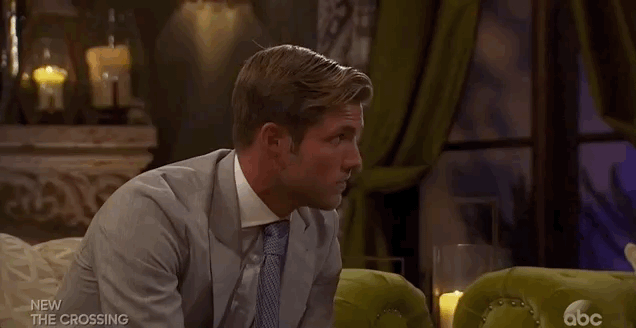 We would just like to stress again that our selections for "best dressed" do not exactly line up with our favorites thus far. If you have watched the first episode, then you will know why we are reiterating this.
Blake (28, Guy Who Rode in on Horse & Bull, Sales Rep)
Okay, so if you follow the show at all, then you might remember Blake being the "knight in shining armor" type that appeared on 'After the Final Rose' riding in on a horse. Well, he had to one-up himself this time, by riding in on a bull! As if he wasn't bold enough already, Blake landed himself on our list due to his bold statement jacket. Sporting a different colored jacket not only made him memorable to Becca, but showed that he is not afraid to take chances and stand-out, which we respect. #TeamBlake!

Ryan (26, Banjoist, we're also pretty sure he also has a real job?)
Another guy that made an appearance on 'After the Final Rose,' was Ryan. You might remember him as the banjo playing guy! Super cute, charming and kind of quirky – which is totally up Becca's alley. Ryan also made it onto our list due to his uniquely bold tuxedo jacket. The pattern definitely fit Ryan's fun personality and expertly styled with a black bow tie to top off the fashion-forward outfit.


Garrett (29, First Impression Rose Winner, Medical Sales Rep) 
The (current) front-runner and proud receiver of the first impression rose, was Garrett. Although we have a feeling Garrett is going to cause some turmoil this season, showing up in a mini-van with that charming smile and easy-going personality instantly had Becca head-over-heels. His well-fitted suit, that was accessorized perfectly with a striped tie and brown dress shoes landed him a spot right on our first (dressed) impressions list too. Which leaves Garrett, so far, 2 for 2.

Jason (29, Senior Corporate Banker) 
If we're being perfectly honest, we don't remember much about Jason apart from the fact that we liked his outfit and he seemed to be personable. Jason was one of the guys that kept it more on the casual side, while still looking completely polished. His blue suit, with an unbuttoned collar on his dress shirt made Jason super approachable, but the addition of a pocket square and some quality shoes are what landed Jason on this list for us.
So, there you have it. Our first impressions based strictly off of fashion choices. We would like to think that men with style and a good taste in clothes would be a good match for Becca, but I guess we'll just have to find out!